Beef Stroganoff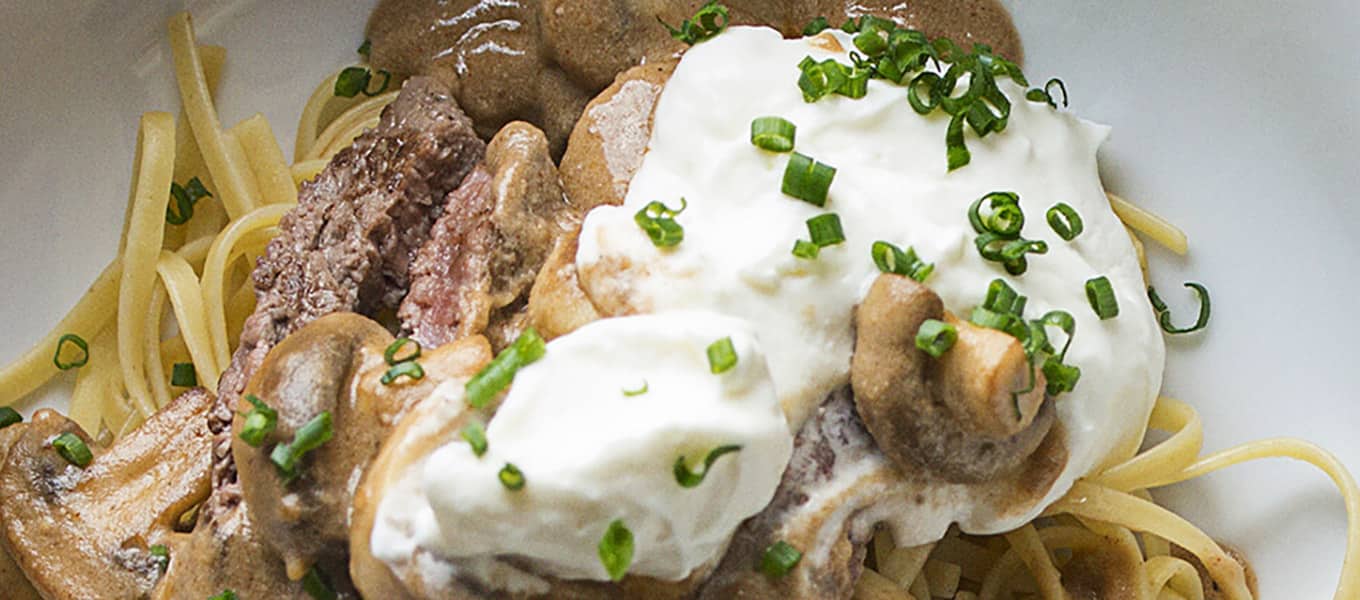 Preparation

15 minutes

Cook Time

20 minutes

Serves

6
A classic of Russian cuisine, this comfort dish is perfect for fall.
Ingredients
¼ cup (60 ml)olive oil
½ lb (250 g)mushrooms, sliced

1

 onion, sliced
1 lb (450 g)beef tenderloin, cut into strips
3 tbsp (45 ml)flour
2 cups (500 ml)beef broth
1 tsp (5 ml)dill, chopped
1 tsp (5 ml)dry mustard
¼ cup (60 ml)red wine or sherry
1 tsp (5 ml)oregano
½ tsp (2 ml)paprika

1

 pinch of cayenne
1 lb (450 g)fettuccini, cooked al dente
1 cup (243 g)Olympic Organic 2% plain yogurt
Preparation
Season beef with salt and pepper.
In a frying pan, heat oil and sauté mushrooms and onions until they are soft and golden.
Remove the onions.
Brown the meat by searing it on high heat, making sure it stays rare.
Remove and set aside.
Add the flour to the frying pan and gradually add the broth, stirring constantly until a uniform consistency is achieved and the mixture is slightly thickened.
Return the meat, mushrooms, onions and wine to the frying pan and cook for about 5 minutes.
Add the paprika, cayenne pepper, dry mustard, oregano, dill and yogurt.
Adjust seasoning.
Serve over pasta or rice.