Shrimp tagliatelle with yogurt and diablo tomatoes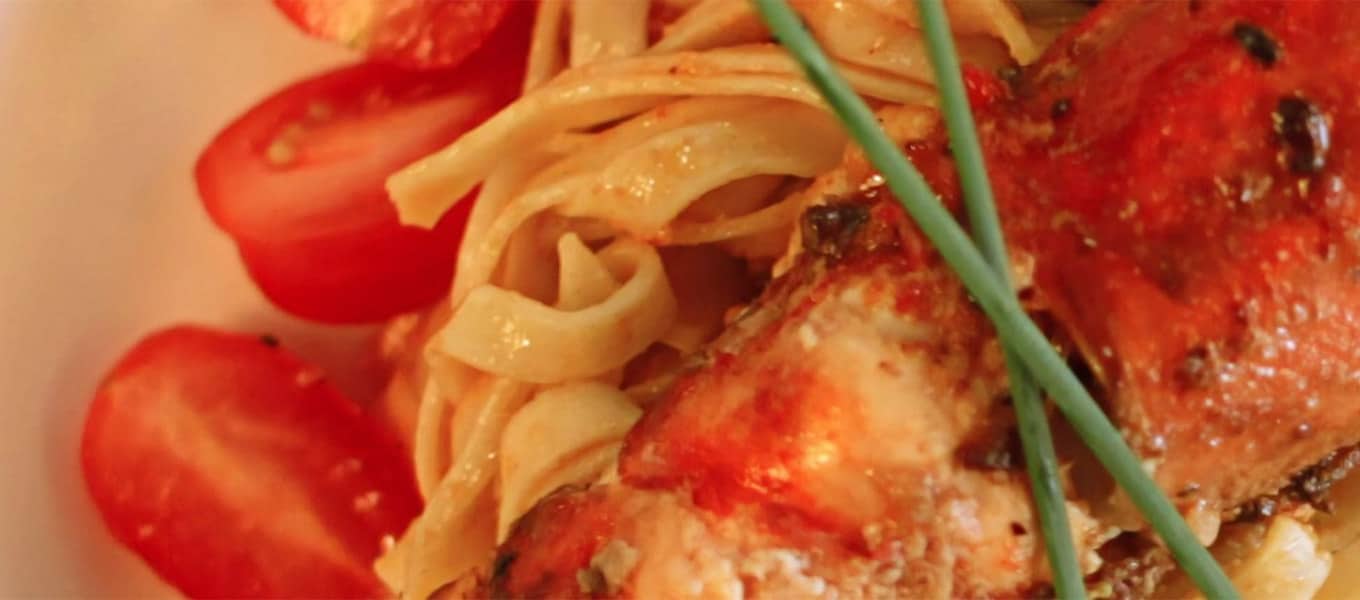 Preparation

10 minutes

Cook Time

20 minutes

Serves

4
A pinch or more of chili, and you've got an explosive recipe full of flavour. The well grilled shrimp shells will lend a special flavour to your sauce. Serve with a small bowl of plain yogourt, for the fainthearted.
Ingredients
16

 jumbo shrimps
6 tbsp (90 ml)olive oil

6

 cloves garlic, chopped

1 to 2

 bird's eye chillies
2 tbsp (30 ml)sherry vinegar

1

 onion, diced
4 tbsp (60 ml)tomato paste

1

 red pepper, diced
3 cups (750 ml)fish or vegetable broth
8 tbsp (117 g)Olympic Organic plain yogurt

16

 cherry tomatoes, halved

4

 portions of fresh tagliatelle
Salt and pepper, to taste
Preparation
Shell the shrimps, preserving the shells.
In a saucepan, bring the fish or vegetable broth and the shrimp shells to a boil, then reduce by half over medium heat.
In a bowl, combine 4 tablespoons of olive oil, 3 cloves garlic, half the bird's eye chillies, the sherry vinegar, and the salt and pepper. Add the shrimps and marinate.
Meanwhile, in a separate saucepan, sweat the onion in a small amount of olive oil. Once lightly browned, add the remaining garlic, tomato paste, red pepper and bird's eye chillies.
Strain the reduced broth and add it to the baking dish with the other ingredients. Reduce once again over medium heat. Add the yogurt and continue cooking for 2 to 3 minutes on low heat. Adjust the seasoning (salt and pepper).
In a pot of boiling salted water, cook the pasta for a few minutes, then drain.
Meanwhile, cook the shrimps on a grill for 2 minutes on each side.
Add the pasta to the sauce, together with the cherry tomatoes, and serve with the shrimps.