Chocolate glazed strawberry yogurt bundt cake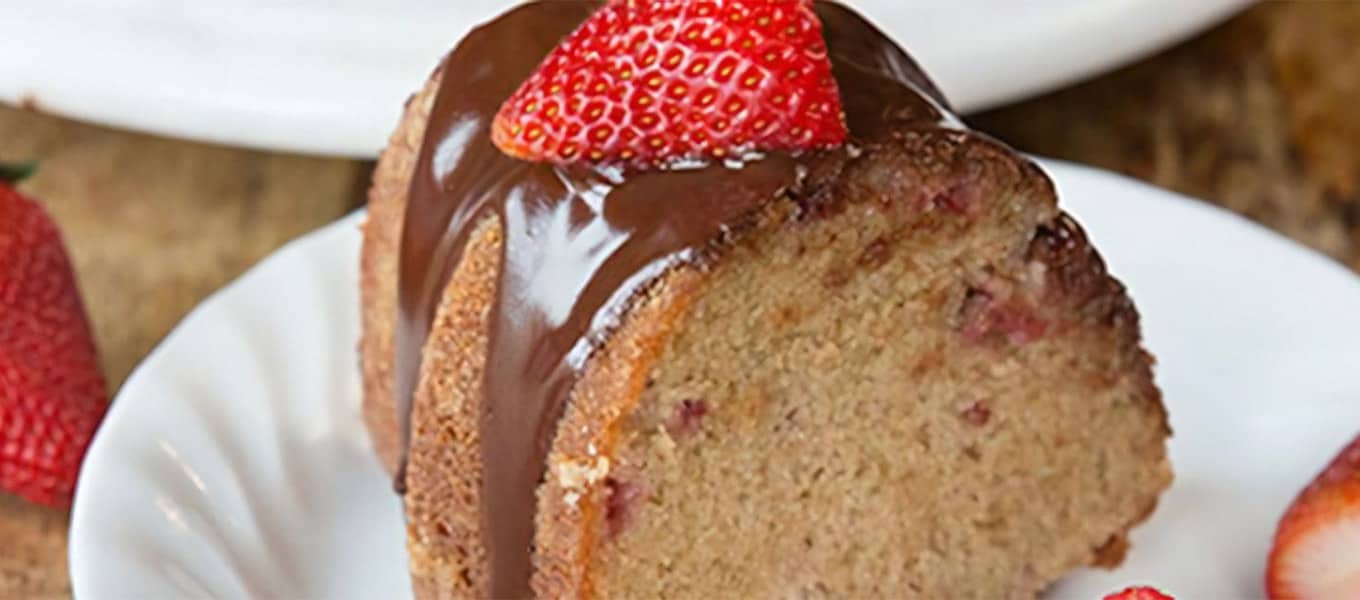 A moist, delicious and most indulgent treat for your 3:00 PM snack!
Ingredients
Cake preparation
2 ¼ cups all-purpose flour
½ teaspoon salt
2 tsp baking powder
½ tsp baking soda
1 cup of butter, room temperature
1 cup packed light-brown sugar
1 cup granulated sugar
4 large eggs
1 ½ teaspoons vanilla extract
1 cup Olympic Krema Strawberry Yogurt
1 ½ cups of fresh strawberries, sliced small
Chocolate Satin Glaze
¾ cup semi-sweet chocolate chips
3 Tbsp. salted butter
1 Tbsp. white corn syrup
¼ tsp vanilla extract
Fresh strawberries, sliced, if desired to top the cake
Preparation
Pre-heat your oven to 350 °F.
Whisk your dry ingredients together in a bowl and set aside.
Cream the butter until it's light and fluffy.  Mix in the sugars, beating until it's once again light and fluffy.
Slowly beat in the eggs then add in the vanilla extract.
Add the Krema yogurt and mix in thoroughly.
Add in the dry ingredients, beat until the batter is smooth.
Fold in the strawberries by hand until incorporated.
Grease and flour a Bundt pan and pour the batter in. Tap the pan a couple of times on the counter to get any air bubbles out.
Bake in a 350-degree oven for 55-65 minutes until completely baked through. Test with a cake tester to make sure it's done or like all Bundt cakes, it will collapse if under baked.
Remove from the oven and let sit for 5 minutes, then invert onto a baking rack to cool.
Combine the ingredients for the satin chocolate glaze in a large glass microwave-safe measuring cup. Microwave on high for 30-second intervals, stirring after each until the mixture is smooth and completely combined.
Pour over the cake, then top with fresh strawberries if desired.
Serve and enjoy!